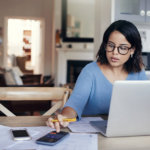 In the time that it takes to write one check, you can set it up with your bank and never have to do it again.  You won't have to write checks, envelopes or buy stamps anymore.  You'll save time, money and benefit in other ways too.
Never be late … avoid late fees and protect your credit.
Schedule additional principal contributions monthly to save interest, build equity and shorten the mortgage term.
An extra $200 a month applied to the principal on a $200,000 mortgage at 4.5% for 30 years will result in shortening the loan by 8.5 years.  If the loan was paid to term, it would save $52,977 in interest.  Use the Equity Accelerator to see how much you can save.
It's convenient … by doing it online with your bank, you'll have a centralized history of the payments.
Protect your credit … your payment history is the single biggest component of your credit score and accounts for over 1/3 of your credit score.
Establishing the practice of auto bill pay could run the risk of overdrawing an account and incurring overdraft charges.  Monitor your bank account to be sure that you have enough cash to cover your automatic payments.
Schedule the Auto Pay to allow for processing and the time it takes to reach the lender so that you don't incur late fees.
And even though, you set up the Auto Pay, it is still your responsibility to monitor your bank account to see that they are executing it properly.  If you are making additional principal contributions, you must see that the extra amount was indeed applied to principal reduction and not somewhere else like in the escrow account.
Some banks offer email or text reminders to let you know when checks are about to be written or if your balance is low.
Let me know if you have any questions about this. I know a great mortgage consultant!