NORTH SHORE + GLENVIEW REALTOR
About
Martha May
Defining the Art of Living on the North Shore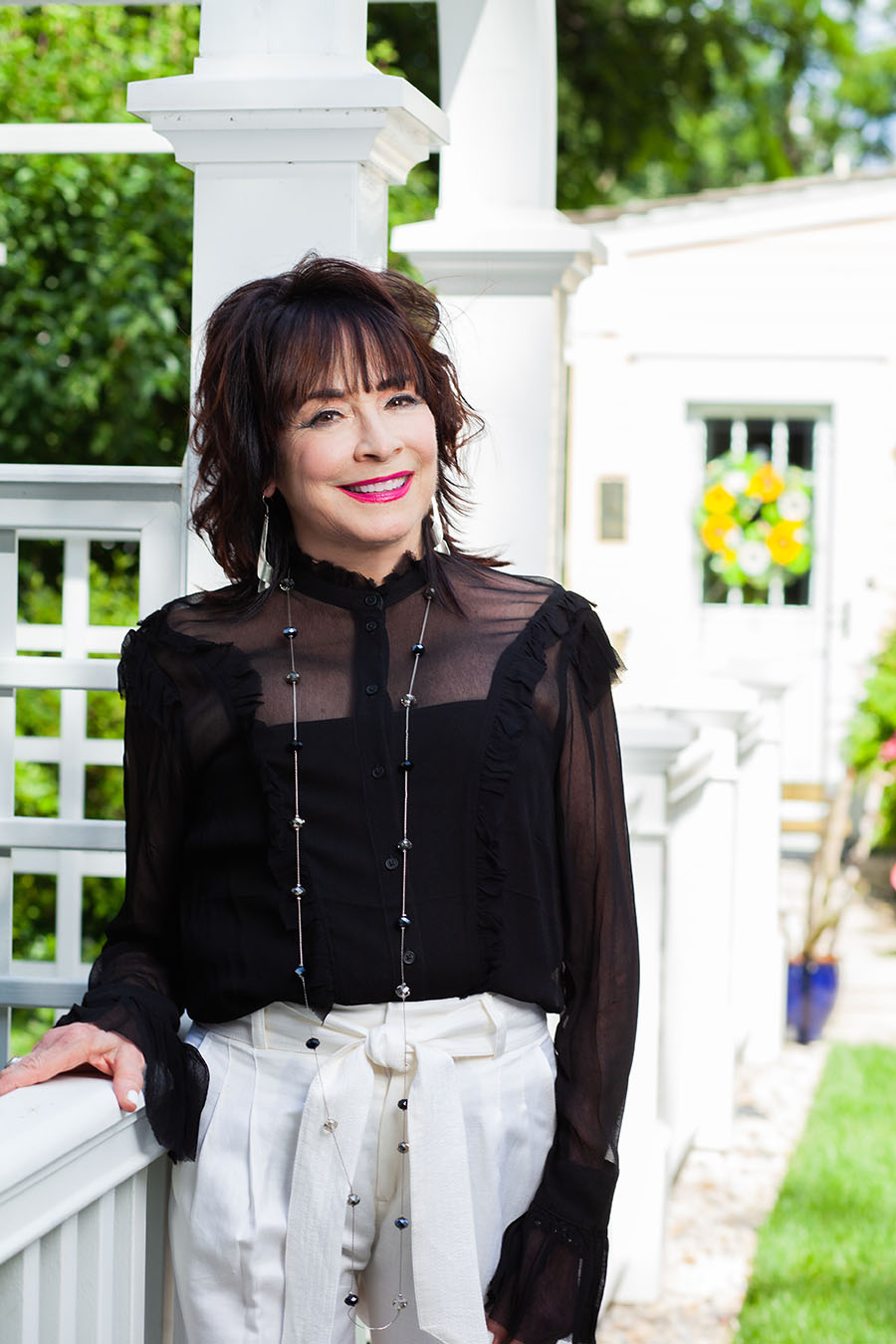 Dedicated to you and our community
My Promise to You
For over 35 years, I have dedicated my career to providing my clients with unparalleled service. Using my unique and artistic approach, I have a proven track record of success and will go above and beyond to get you more. When you work with me to buy or sell your home, you can trust I am:
• Acting with integrity and honesty
• Listening to your needs and acting accordingly
• Treating you as I would like to be treated
• Counseling you with the best of my knowledge and understanding of the real estate industry
• Selling your home for the most amount of money in the least amount of time, as the market dictates
• Communicating with all parties at the highest level
My Story
My success story started in 1986, and I still love what I do! I am in the top 7% of the company year after year, for decades finishing in the #1 spot! I am proud to say I am a member of the esteemed BHHS Chicago Hall of Fame, the National Gold Chairman's Circle, and President's Circle! My record speaks for itself, and I get results! One of the reasons I am among the most successful Realtors in the North Shore area is that I take my business and my clients to heart. I pride myself in being a "what you see is what you get" person. Because of that, I believe you deserve not only my best effort but also an up-front opinion of your transaction. Homeowners appreciate it when I stay in touch. It is about being personable and professional. I know that selling or buying a home is one of the biggest decisions you will ever make. It is much more than just another deal. It is a life-altering decision. I will give you 200% in doing everything I can to make your move, and all that entails, as effortless as possible!
These are the numbers according to surveys sent to past clients.  For both buyers and sellers, I have built my reputation on going above and beyond to exceed my clients' expectations.  With over 35 years of experience selling homes in Glenview and the North Shore, let me be your guide!
Experience:
Started with Merrill Lynch Realty in Glenview in 1986
Joined Koenig & Strey, Glenview in 1992, which became part Berkshire Hathaway HomeServices in 2014
#1 Individual Agent with BHHS Chicago, Glenview for over 20 years!
Top 7% BHHS Chicago Sales Partners
National Gold Chairman's Circle Award
Inducted into the BHHS Hall of Fame 2015
Real Estate Education:
Holds Managing Broker License
Graduate, Realtors Institute (GRI)
Certified Residential Specialist (CRS)
Short Sales and Foreclosure Resource (SFR)
Accredited Staging Professional (ASP)
Professional Associations:
Women's Council of Realtors (WCR)
Personal Information & Education:
Bachelor of Fine Arts Degree from University of Iowa
Studied at the Art Institute of Chicago
Pi Beta Phi Aluumi Club
University of Iowa Alumni Club
I Know The
north shore luxury market
With the backing of Berkshire Hathaway HomeServices Chicago, I bring the local expertise along with the global resources of one of the world's most respected brands.   Consider me your resource for luxury on the North Shore.
A few words from previous clients...
Rave Reviews
A perfect score...
"A+ Service"
The Story of Joanne & Fernando T. (Buyers)
After considering a number of real estate agents, Joanne and Fernando were referred to Martha via an acquaintance to help purchase a home.  With her personalized plan of action, Martha brought the couple to a number of properties, guided them through the finance process, and was able to deliver results that exceeded their expectations when it came time to negotiate.  Their perfect scores for Martha reflect the level of support she brings to all her clients.
More Accolades...

Tim and Gloria Slaman
Northbrook
Did excellent job of preparing house for sale and setting clear expectations on the sale. Did an excellent job of marketing house and getting offers.

Judy Lazar
Wilmette
Your help in making my move to my new home was truly appreciated. Of course the "magic" of our speedy sale & closing helped make the whole process a joy. I love the Waterford candle holders and will enjoy using them when I have company for dinner. Many thanks for all your help

Beverly Furtado, Sanjeev Kumar and Dorie
Northbrook
When we first started looking for a home in the Chicago area we were almost clueless, but then we got in touch with you and that changed everything! 

Gloria and Mohammad Amin
Glenview
We had considered selling our house and downsizing and Martha May had helped us in previous years. We ultimately decided we weren't ready to take that step. Recently, we made the decision to go ahead, and contacted Martha. We began looking, thinking it would take quite a while to find a condo. To our surprise, the 4th condo Martha showed us was the one. She was very good at keeping us in touch and in tune with the process. We closed on it last week and are now getting our house ready for sale with Martha.

Barbara Mette
Lake Forest
Martha May became my agent in the middle of my house sale and jumped in with both feet. After she got the contract on my house she tirelessly searched for a home for me to rent. Bingo she found one. I highly recommend Martha.

Patrick and Julie Bily
Park Ridge
Martha was very professional in every aspect of the sale and on the purchase side. She was very patient with us as we decided where to live and very organized with both transactions.

Marge & Nick
Des Plaines
We can't thank you enough for all that you have done for us over the past year in our search for a new home! Your support, kindness, & sincere advice meant more to us than you'll ever know.

Martha David
Winnetka
If you are looking to buy OR sell a house, I cannot recommend her enough!

Michael Flood
Morton Grove
Martha May was awesome to work with. Her experience and business acumen was perfect. She led with positivism which sold us from the moment we met her.

Jade
Morton Grove
Thanks Martha for being patient and understanding and communicating all aspects on the selling of my mom's home.

Jason Thomas
Niles
Martha May presented the most detailed marketing plan of any agent I spoke with. Her professionalism, experience and attention to detail made my decision to utilize her services easy. I will definitely recommend AND use her services in the future.

Kim Leszczynski
Grayslake
Martha not only gave me great advice on selling the house, but she supported me with the emotional side of the sale as well. I called on her to help my son with his home purchase and with the sale of the house I remodeled to sell. I would rely on Martha for any real estate sale or purchase.

Christine
Glenview and Naperville
Martha was the broker for the previous owners 20+ yrs ago. Liked that she knew the house & neighborhood. Very professional & fun to work with during this stressful time. I liked it when she said, "Don't worry, let's just take one step at a time." I would recommend Martha May.

Rob & Kait
Des Plaines
My fiancee and I had a great experience buying our first home with Martha! She always replied promptly, no matter the time of day, which really helped with our busy schedules. We're in love with our new home and can't thank her enough for helping us get it!

Tom and Margaret Manijak
Des Plaines
Martha, we want to thank you for your exceptional, professional guidance in the process of selling our condo. Your kindness, knowledge and being friendly was very important. We would definitely recommend Martha May to anyone who is looking for a real estate agent.

Mary Stutz
Glenview
I would highly recommend Martha to sell my home or any home. She knows real estate, value, areas, and is always there to help you. Her previous art degree shows through when she and her team are staging and photographing your home.

Gunes and Nazli
Glenview
It was our pleasure working with you! I love your straightforward and honest approach, I believe our personalities should shine through in the work we do, and you prove this true; we have been blessed to have found you, especially in this second round! You are always welcome at our home wherever we are, and please come visit us in Florida!

Bernie and Peggy
Northfield
Martha May is by far the best Realtor we have had the pleasure of working with. She is bright, articulate and knows her business and the market. We highly recommend her to anyone contemplating a sale of their home.

Maurico and Lina
Wilmette
She was always available, resourceful and helpful, from the initial house hunting trip trough the final closing. The entire experience was very enjoyable, as we were able to capitalize on Martha's knowledge of the business, the area and the holistic real estate purchasing processes.

Mimi & Art Moses
Glenview
Martha, we want to thank you for your exceptional, professional services and guidance in the process of selling our home and assisting us in locating the perfect condo to purchase. We never expected our home to sell so quickly. Thank you for finding the condo that fit our budget & needs.

Jim and Michele
Lake Bluff
Martha takes a lot of pride in helping people find the right home for them, and she should. Her results are impressive. We would highly recommend Martha to anyone moving to the area.

Susan and Ryan
Libertyville
This process was very high pressured as we were under a tight deadline to relocate. We would have never been able to do it without Martha! She was the best Realtor we have ever worked with. She is totally dedicated and has her clients best interests at heart. I would recommend her to ANYONE that needs a Realtor!!

Debra and Mark
Lake Forest
You are equal parts wonderful human being plus fantastic Realtor!

Lisa and Victor S.
Lake Forest
Martha was wonderful to work with in our search for our home on North Shore! Her experience throughout the transaction shined through. We would definitely recommend her to anyone buying or selling. She is a real professional!

Tina and Serge Messerlian
Glenview and Winnetka
It has been a true pleasure working with Martha and we would highly recommend her as an agent.

Holly Gail
Niles
I would definitely recommend Martha to anyone who is looking for a real estate agent. I know I will use her when I put my house on the market.

Neena and John
Glenview
Thank you so much for letting us lean on you during our move. It was wonderful to have you by our side.

Kim Nystrom Leszczynski
Glenview
Thank you so much for your help selling my mother's house! Your guidance helped me to get the house ready to sell and looking so awesome that it sold in two days! My advice to anyone serious about selling and willing to listen to an experienced and successful Realtor – call Martha May first!

Donna
Des Plaines
Just a note of appreciation for your experience and instinct and the way you meld them together to do what you do so well. We successfully made it full circle from planning to selling to planning to buying, and I am finally where I belong. We even had a few laughs along the way! Thank you for a job well done.

Jackie and Bob Rodenkirk
Wilmette
Martha May helped us buy our dream home. We listed our old house with Martha after seeing her sell many homes in our Glenview neighborhood during the past 10 years. Because of that, it was a no-brainer when we decided to sell.

Paul & Rochelle Angelus
Skokie
We want to express our gratitude for all that you did to "make this sale happen." We are singing your praises to everyone we know. Your expertise helped us stay calm and hopeful when everything seemed to be falling apart. We feel blessed that we were "led" to you and your services.

Nazli & Gunes Tezcur
Glenview
It was a pleasure working with you. You have our highest recommendation. We look forward to working with you again in the future.

Mustafa Khan
Rolling Meadows
She was always on time and very patient with the ever changing decisions of my wife and I. It was very frustrating for us to find the house that we wanted as the market is currently poor but having Martha on our side surely helped. She was always very helpful, easy to reach and organized. I would strongly recommend her.

June Watson
Northbrook
I highly recommend Martha because of her professionalism, calm sales approach and the ability to work with someone many many miles away.

Joyce and Vic
Deerfield
We felt so confident when discussing our time frame with you – that you were on top of pricing that would get us a sale in a reasonable time. Needless to say, when we listed and closed the sale in less than 2 months we knew we had chosen the best person to list with.We appreciated your input, your professional work and the follow up on every showing.

Nancy Nagy
Congratulations on your success in 2011. It certainly was an extraordinary year. You are to be applauded for rising to the challenge with skill, knowledge and finesse, and delivering a high level of service to clients. Along with the entire Koenig & Strey Leadership Team, I am very pleased to celebrate your Platinum status, and to count you among the top five percent of our company.

Kaitlin and Joe Kirchberg
Mount Prospect
I can't even begin to thank you for all you have done for Joe and I. Having a place of our own means the world to us and you took the extra time to care for us and really listened to what we were looking for! You found us just what we wanted!

Judith Franklin & John Owens
Wilmette and Glenview
We have the utmost of respect for Martha and would highly recommend her to anyone looking for a seasoned, top notch Realtor.

Judith Franklin & John Owens
Glenview
Martha May is the only Real Estate person I have used in the last twenty years. Before that I was disappointed with other agents numerous times. Martha is a never say die person who presents herself as a friendly, classy person. She works hard and will never offend anyone.

Charles Nash
Glenview
Thank you very much for all your help and the diligence that you went through in finding a buyer for me and the extra work you did in readying the house for sale. Both Carla and I really appreciate it – very much.

Holly Womack
Northfield
You are an exceptional Agent, and such a pleasure to work with, always organized, so courteous, energetic, and thoughtful. Working with you was such a wonderful experience, and it would be my pleasure to refer anyone to you who might be looking for a very talented Agent.

Bill and Kathy
Northfield
Thank you for the lovely flowers and note. Kathy and I are very excited to have finally reached this point in our lives together. Your guidance and expertise helped to move this along. I truly appreciate your help.

Barb Sunko
Glenview
Thank you also for your assistance in my purchase. You were most helpful. Your exemplary professionalism was recognized and greatly appreciated.

Stacy and Brian Ollmert
Glenview
Just wanted to thank you for all your hard work in selling our Glenview home. You really made the selling process process so easy for our family.

Chris Mitchell
Lake Forest
I would highly recommend Martha May because of her professionalism, calming sales approach, ability to identify her clients needs and her strong communication skills that continually kept us informed of any possible home opportunities. Great work Martha!

Jody Staszesky
Glenview and Libertyville
Martha was a pleasure to work with on both the sale of my home and the purchase of a new home.

Nick & Kellie
Park Ridge and Glenview
Thank you very much for all of your help/expertise on the sale and purchase of our homes in Park Ridge & Glenview. We are in the toughest economic and real estate market in years and your tireless efforts, excellent communication, and positive personality will not be forgotten.

Molly Schneider
Evanston
Thank you so much for all your time and effort on our condo purchase! Buying a home without ever being in it was a bit nerve-wracking, but I knew I was in good hands. Thank you also for the beautiful votive holder. It will hold a prominent place on the shelf!

Jeff W
Riverwoods
Martha was reliable, honest, articulate and professional. She has the accreditations and awards to back her experience. The goal was to sell our home: price it properly, create interest, obtain an offer/contract, and do it in a timely fashion. If you want to sell your home, look no further. Martha May is a given.

Rob and Lauren Matles
Glenview
We have found the home of our dreams with the help of our wonderful real estate agent Martha May. Martha was great to work with and very patient with us.

Cathy Klocek
Glenview
Thank you for all your efforts to sell my mother's condo. I am so relieved to have that off my long list of things to do!

Scott Hall
Advancement, Inc.
I have known Martha well over a decade now and have had the pleasure of working with her on several occassions. She has always reflected complete professionalism, knowledge in her field, dedication and responsiveness to get the job done. I feel Martha is one of the best in her field and a valuable business partner to team with.

Jonathan Rubenstein
Highland Park
Martha is a client focused broker. Martha has always been available over the years whether it be to field a question or pursue a venture. We recently worked together on a multi-year commercial endeavor for which her involvement was critical to getting it done.

Kathy and Bob
Glenview
Thank you so much for your excellent Realtor skills. We have the house of our dreams and you did so much to make it happen. The crystal candle holders are absolutely lovely. They add a beautiful touch to our mantle. Thank you, Martha! Thanks for all your help!

Jennifer and Joel Boyd
Glenview
Thanks so much for helping us find our new house. We appreciated how you were able to quickly get a sense for what we were looking for and give recommendations based on that.

Mitch and Susie Garman
Glenview
Susie and I want to thank you for the outstanding service you provided with both the sale of our previous home and the search and purchase of our new home.

Claudia and Michael Carr and Roxie Witaker
Deerfield
Martha May has successfully handled all of our real estate transactions for the last 13 years. We wouldn't dream of using anyone else! She is professional, knowledgeable and personable, and best of all, she is a closer.

Jeanne B
Glenview
Anyone who prefers to work with a consummate professional should call Martha May. As a first-time seller and a long-time homeowner, I called Martha after an extensive comparsion of direct mail I received from various agents through the years and reviewed listings in the local press and found Martha to be the best at both venues.

Carol Matusak
It is generally accepted that buying or selling a home is one of life's most stressful events…but it doesn't have to be unpleasant! Working with Martha May recently to successfully sell my condominium was a positive experience in every way.

Paul Jr. and Rosemary
Glenview
I am writing this letter to express our appreciation in the manner in which you helped sell our home in Glenview. We know how much you did to help the sale go so smooth. We cannot give you enough praise in your very special endeavors. Should we ever need your special attention in selling another home, we would definitely use your expert decision in all aspects.

Cathy Gregory
Morton Grove
Martha – thanks again for all your help in selling my parents' house in Morton Grove. It's so wonderful to work with a pro like you.

Sherrie Reddick and David Kahn
Glenview
Martha was excellent. She was helpful professional and knowledgeable.

Russ and Kathleen Abraham
Northfield and Glenview
Martha May is the best when she has a mission. She is like a pit-bull seeking what the client wants. She sold our house in a matter of days and found us a wonderful condo a few days after that. She works tirelessly for her clients whether night or day. She is a winner and great to have her in your corner. Martha May is hard driving, very communicative and patient. Martha made herself available to us every day through the whole process. I would recommend her to anyone. Very friendly and professional.

Casey Bryne
Glenview
Martha listened to my concerns and responded appropriately. I needed and asked for advice at each step of the process and she was there to share her expertise. Plus, I appreciated her sense of humor. She was always easy to get in touch with when needed.

Helen G.
Evanston
Martha May is terrific. She guided us through a number of offers and reached a respectable goal for us. We are delighted with the young family which purchased our home of 52+ years. They are happy. We are happy. Thank you, Martha…and your assistant. And thanks to God.

Reiko Endo
Skokie
Martha May is knowledgeable about the house and property and she has critical eyes regarding property and house. She is knowledgeable about the neighborhood and resources. She did well, she sold the house in 2 days after putting up the sale sign. She is conscientious and professional about her work.

Cheryl and Gary Borden
Glenview
Thank you, Martha. We know that the successful conclusion of our sale was based upon your expertise. 

Khem Balkaran
Glenview
Martha:  I would like to extend a sincere thank you for assisting me with the sale of our property.  From my first interaction with you, I felt the great pride and honesty you take in conducting your business. Appreciate your assistance. 

Kliff Svatos
Glenview
Martha was great. We've used her to buy and sell multiple times. Whole process went smoothly


Karen Doyle
Glenview
Martha May is so knowledgeable regarding the Glenview / North Shore area and was especially knowledgeable regarding my particular townhouse complex. She was very professional from knowing how to price my home, to the photos, to the advertising, to the sale price negotiations. My home sold in less than 2 weeks! Martha was always in contact with me….every step of the way. I would never hesitate to recommend her.

Elsa Hernandez
Glenview
Working with Martha was a real pleasure. Her patience and professionalism were top notch as well as her work ethic. I even used Martha to find my new home. She is highly recommended by me.

Barbara Bond
Glenview
Martha's enthusiasm was very important to me and her overall knowledge of the market and the area in which my home was located. Martha was always respectful of my schedule and gave me at least 24 hours notice of any showing. She was knowledgeable about all aspects of selling my home. What more could I say about Martha May – She is awesome!

Laura M.
Glenview
Martha was great to work with . . . priced home fairly and sold it quickly.

Heather Pohlman
Glenview
Martha May was excellent to work with while we looked to purchase a home. She was always quick to respond and willing to show us any listing that we had interest in. Martha is always available and easy to get ahold of. I would definitely recommend Martha May for anyone who is looking to buy or sell a home especially in the Glenview area!

Bill and June Watson
Northbrook
This was our 2nd time working with Martha and we wouldn't have had it any other way. This time, she sold our place we bought 8 years ago. Martha was always available, answered all our questions in a timely manner and always had an upbeat positive attitude. Her years of experience and dedication shine through. Martha is a true professional and gave us excellent advice throughout the process. I highly recommend Martha for your real estate needs.

Holly Gail
Morton Grove
This is the second time I have used Martha May as my real estate agent. Martha was very professional and a pleasure to work with. The first weekend the house was on the market we had three offers. In spite of Covid-19 the house sold right away thanks to Martha May. She helped close the deal even though we had moved out of state. I highly recommend using Martha as your realtor.

Pam and Robert Dufour
Glenview
Our experience with Martha was flawless from beginning to end! She is experienced, knowledgeable, responsive and a great person with whom to partner for such an important event as selling your home!! We loved working with Martha and would highly recommend her to others.

Brian Nolan
Northfield
Great to deal with, will use Martha's services again.

Elsa Hernandez
Des Plaines
Martha May is a consummate professional. I wouldn't think of using another agent. Things went very smoothly. Thanks.


Rob Berns
Glenview
Martha is a consummate professional. She is well seasoned and knows exactly what she is doing. Martha is very obtainable. Every time we called, she picked up the phone. She must have the phone glued to her ear. We can't say enough about how much we enjoyed working with Martha. Our sale was not an easy one because of a unique situation with our house. Despite that, Martha put up with all of the difficulties and always remained professional. She was always available and came to every house showing. We were so delighted to work with her and would highly recommend anybody use her for the sale of their house. We truly feel that you will not find a better, harder working agent than Martha May.

Fernando and Joanne Teixeira
Chicago - Lincoln Park
We purchased and sold our Lincoln Park condo with Martha. She is a pleasure to work with and we would highly recommend her! Thanks ever so much! It was so fun working with you and I will miss you!

Bob and Gloria Slyferth
Morton Grove
Martha is a very reliable and experienced broker and creates a confident working relationship with her clients.
Martha exceeded in meeting all our needs.
Martha excels on all levels of client relationships.

Christopher Marty
Chicago
Martha repeatedly and enthusiastically drove to the city from her home in Lake Forest to help us find a home in a difficult market on a short deadline. She was as comfortable traipsing through chest-high weeds at down-to-the-studs renovation projects as she was in fully remodeled properties helping us critique fixtures and finishes. She was available to us night and day, and we couldn't have become first-time homeowners without her expertise and experience. We're thrilled with our new home and so thankful to have had Martha with us every step of the way!

Cesar and Lelia Lanuza
Glencoe
We met Martha seven years ago when we relocated to Chicago, she was incredibly helpful. Her experience in the North Shore area was instrumental to help us to find the right home on the right location for our family. When we were ready to downsize, we did not hesitate a minute on calling her to help us find a new place and to sell our home. She really understands the market, your needs, and very passionate about her work… she is the best!!

Cindy
Skokie
Martha May is the best professional Realtor in the North Shore and all of Chicago. She is patient, honest, transparent and caring. If you are in need of the BEST Realtor, please contact Martha May to sell your property and purchase your dream home! Thank you, Martha May!! I appreciate your leadership.

Kamalakar Gulukota
Glenview
Martha May did an excellent job. As first time home sellers, we needed a little hand holding and she was with us every step of the way.

Calvin Marty
Chicago
Martha is a pro, through and through. She guided us (first-timers) with grace and strength, supporting us all the way. We felt very taken care of right up until closing. Further, without Martha's expert negotiation advice, I don't believe we would have gotten the property for the price we did. I would recommend Martha to anyone, selling or buying. Her many years of experience are brought to bear for her clients in obvious and advantageous ways. Selling and buying houses is stressful; Martha takes a lot of that stress away, carrying it for you. 🙂 Thanks again!

Gina Zinbarg
Deerfield
Martha went the extra mile with all of her conscientious caring and was so generous with all of her time, help, and support!

Betty Moeykens
Glenview
Martha was a pleasure to work with! From the moment we met her, both her professionalism, and warm personality shown through! She is so knowledgeable, and the presentation of our property was beautifully presented!  Martha communicated with us every step of the way.  She is the best of the North Shore and beyond!

Steven London
Chicago
No matter the state of the real estate market or type of property being bought or sold, Martha's experience, business acumen, and tenacity are rare traits that few realtors possess.
The difficulty in selling the property was due to the condominium's unnamed special assessment for 2024. Martha again handled the situation flawlessly. I have been working with Martha May for both purchasing and selling property since 1997. Other friends and family members have used her services as well. Simply put, in addition to all her qualities, she genuinely cares about her clients. And that is the difference in today's real estate market.

Alastair and Leslie Henderson
Glenview
You have been great; we certainly made the right decision by going with you. We will absolutely recommend you to our friends.

Bruce Schwarz
Buffalo Grove
Praise from a fellow agent…
Martha was an exceptional agent. She provided detailed information at all steps of the sales transaction. I was very impressed with her helpful & instructive details. Her communication skills were totally in line with my expectations of what a realtor should do. Thank You Martha

John and Debbie Wilen
Glenview and Grayslake
Martha May was so willing to work with us again. She is very knowledgeable about the community and surrounding areas. She understands the buyer and does her best to stand up for the seller (us) trying to get the best price and other things that go with selling a house. I would recommend her to anyone that needs a great Realtor.

May Odishoo
Buffalo Grove
Trust me when I tell you, I've had nothing but an amazing experience with Martha as my Realtor not to mention, she found me my dream home. Martha was referred to me by a dear friend who highly recommended her after I had a bad experience with a previous Realtor. At each step in the whole process Martha came through with her commitment to excellence. She is very patient and highly knowledgeable about the market and always made me very like I was her top priority. I highly recommend Martha to anyone who is looking to buy a home, I know they will be well taken care of.
Looking to buy or sell a home in Glenview or Chicago's North Shore?
I have the experience, local expertise, and global resources to help make your real estate goals a reality!  From Glenview and Deerfield to Evanston and Lake Forest, I have helped clients all across the North Shore when buying or selling a home!