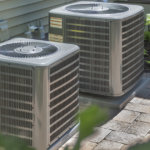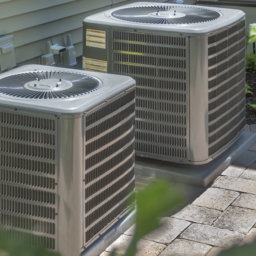 Heating and air-conditioning are frequently referred to as the "comfort systems."  If one has gone out in the dead of winter or the heat of summer, lack of comfort becomes a primary concern.  Regular maintenance with a HVAC checklist is something that homeowners can do themselves to ensure that the units operate properly.
Periodically
Change your filter every 90 days; every 30 days if you have shedding pets.
Maintain at least two feet of clearance around outdoor air conditioning units and heat pumps.
Don't allow leaves, grass clippings, lint or other things to block circulation of coils.
Inspect insulation on refrigerant lines leading into house monthly and replace if missing or damaged.
Annually, in spring
Confirm that outdoor air conditioning units and heat pumps are on level pads.
Pour bleach in the air conditioner's condensation drain to clear mold and algae which can cause a clog.
Avoid closing more than 20% of a home's registers to keep from overworking the system.
Replace the battery in the home's carbon monoxide detector.
While using this list will provide some things that may impede the comfort system's proper performance, it is recommended that you have your units serviced annually by a licensed contractor.  Furnaces should also be inspected for carbon monoxide leaks. Preventative maintenance may help avoid costly repairs.
If you need any service recommendations, let me know!