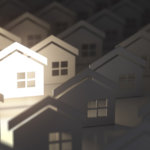 In a recent article, The Wall Street Journal reported that investors have rarely been this flush with cash.  The economic uncertainty due to the pandemic and the volatility of the stock market has caused assets in money-market funds to increase to approximately $4.6 trillion, the highest level on record according to Refinitiv Lipper.
The question becomes should an investor be "out of the market" until things settle down or should they seek to find alternative investments to produce satisfactory results.  Even in the middle of this uncertainty, residential rental property has been a stable performer.
Rents are continuing to increase along with values.  Investor mortgages are available at 80% loan-to-value at fixed interest rates for 30-year terms.  Most other investments must be purchased for cash or at best, are limited to low loan-to-value loans, at floating interest rates for relatively short time frames.
The use of borrowed funds, especially at today's low interest rates, contribute to the rate of return and in some cases, increase it.  This characteristic is known as leverage.
Income properties enjoy specific tax advantages like long-term capital gains rates lower than ordinary income rates, standard depreciation, which is a non-cash deduction, as well as expensing many big-ticket items in the year purchased.
Tax deferred exchanges are available for investors wanting to avoid the tax due on sale and defer the profit into the replacement property.
One of the most cited reasons people invest in rental homes is that they feel they are more in control.  They understand a rental home because it is the same type of property and requires the same maintenance as the home they live in.  They can make the decisions to improve it, repair it, what rent to charge and when to sell it.  For most owners, a home represents their largest financial asset.  That familiarity becomes a natural bridge to decide to invest in rental property rather than something they are less familiar.
If you'd like to know more about the benefits, download the Rental Income Properties guide and then contact me to discuss what kind of opportunities are available!